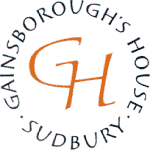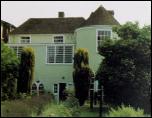 The lavender walk flanked by English roses at the back of the House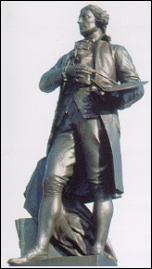 Gainsborough's statue looks out over the Market Hill in Sudbury. Markets are held every Thursday and Saturday.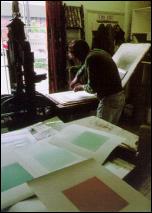 The Print Workshop in the old coach house is used by artists to make etchings and other prints. There are courses for beginners to introduce print techniques to everyone.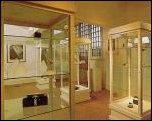 An exhibition of jewellery in the Weaving Room.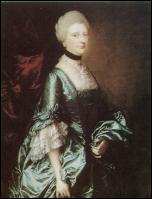 Portrait of Harriet, Viscountess Tracy, painted in about 1763 when Gainsborough was living in Bath.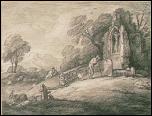 'Wooded Landscape with Peasant Reading a Tombstone', an etching made by Gainsborough in 1780.

Gainsborough's House
Gainsborough's House is the birthplace of Thomas Gainsborough (1727-88), one of England's very greatest painters. It is now an art gallery and museum with more of his paintings, drawings and prints on display than anywhere else in the world.
The House has a Georgian facade, built by Gainsborough's father, but retains features dating back more than 500 years. The garden's mulberry tree would already have been mature when Gainsborough was a boy.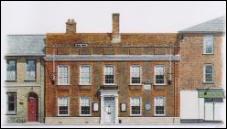 In addition to this fine heritage the House offers a lively programme of contemporary exhibitions, and has a shop selling cards, books and souvenirs.
Pictures by Gainsborough
The collection includes fine works from throughout Gainsborough's career. His earliest known portrait, a boy and girl in a landscape, is now in two fragments. No one knows when or why it was cut up. Another early portrait catches the likeness of the Reverend Tobias Rustat, while the artist's superb handling of drapery was seldom better than in the portrait of Lady Tracy.
Gainsborough was as much a master of landscape as portraits, and the magnificent Wooded Landscape with Cattle by a Pool is among his most ambitious. He often experimented with unusual techniques in his drawings - one of several in the collection was finished with a coat of skimmed milk. Etching, too, fascinated him and the Peasant Reading a Tombstone reveals his mature style.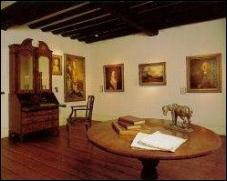 Gainsborough's studio cabinet is one of a number of pieces of period furniture in the House. His sword-stick and pocket-watch are also on display.
The Parlour ceiling dates from 1520. The horse is Gainsborough's only known sculpture. He sometimes used models like this to plan his compositions, arranged on a table with mirrors for water and broccoli for trees.
Exhibitions
Visitors can expect something new with each visit. Contemporary painting, photography and craft are shown in the Gallery and the old Weaving Room. In summer there is sculpture in the garden. Exhibitions of both local and national interest are included in the programme.
How to find Gainsborough's House: Follow pedestrian signposts from the station or from the free car parks in the town centre.
Open: Tuesday to Saturday 10am-5pm; Sunday, Bank Holiday Monday 2-5pm. Closes 4pm November-Easter.
Closed: Mondays, Good Friday and between Christmas and New Year (telephone for exact dates).
Admission: Adults £2.50; OAPs £2.00; children, students £1.25. Entrance charges may be revised. Group rates are available on request.
Disabled visitors are welcome, but wheel-chair access is limited to the ground floor.
46 Gainsborough Street,
Sudbury,
Suffolk C010 6EU
Telephone 01787 372958
Fax 01787 376991