Original exhibits from the Nazi extermination camps.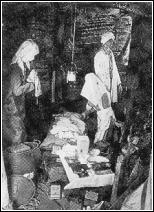 Relief work in the ruins.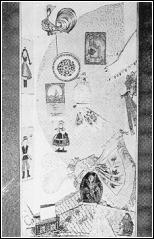 One of the many display cases showing the beautiful embroidery and handicrafts made by sick and handicapped adults and children suffering from a variety of diseases and illnesses in Sue Ryder Homes.
Visit this Museum which tells the remarkable story of Sue Ryder, her international Foundation, and its continuing work for the sick and disabled.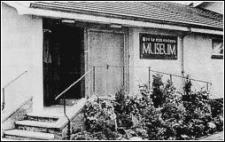 This museum was conceived by Sue Ryder as a tribute to those whose suffering and courage brought her Foundation into being.
Original exhibits from the Nazi extermination camps 1933-1945.
These show: a prisoner's uniform and pair of clogs
a Rosary and head of the Madonna, made from crumbs of bread
a tin of zyklon B gas
letters/notes from prisoners
Relief work in the ruins: A tableau showing the scene of an improvised "hospital" amidst the terrible devastation in Poland where 80-95% of its cities and towns were destroyed between 1939-45. Afterwards all the acres of rubble were cleared by bare hands and the cities restored to their original architecture. Truly, a miracle of this century.
SUE RYDER COFFEE SHOP
Morning Coffee
Lunches including traditional Sunday lunches
Cream Teas
Parties welcome (preferably by appointment)
SUE RYDER GIFT SHOP
The Gift Shop stocks a. wide selection of gifts and greetings cards.
The CHAPEL situated in the Sue Ryder Home is also open to the public.
All surrounded by DELIGHTFUL GARDENS.
HOW TO FIND THE SUE RYDER FOUNDATION:
Cavendish is 8 miles north west of Sudbury on the A1092 between Clare and Long Melford. The Sue Ryder Foundation is by the duck pond in the High Street.
Parking in the Car Park or in the High Street.
Toilet for the disabled
OPEN DAILY (except Christmas Day) 10.00 a.m. - 5.30 p.m.
For Information and Party Bookings, please write to or telephone:
The Sue Ryder Foundation,
Cavendish, Sudbury,
Suffolk C010 8AY