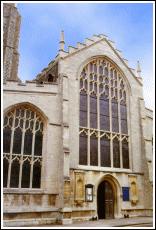 The Cathedral is the heart of the market town of Bury St Edmunds and is adjacent to the Abbey Gardens. It stands alongside the Visitors' Centre and is a short walk from the Manor House Museum. St Edmundsbury is the Mother Church of Suffolk and is a rare example of an English Cathedral which is still in the process of being built. The latest extensions, under the direction of the late renowned architect, Stephen Dykes Bower, won praise from Alec Clifton-Taylor for the sympathetic blend of the new with the existing. He states 'The outcome is an interior which is at once spacious and dignified and, surely, an outstandingly good example of the way to convert a parish church into a cathedral.'
Cathedral Arts

The Cathedral presents a full programme of events, concerts and exhibitions. In addition to being a major venue for the Bury St Edmunds Arts' Festival in May, we host concerts by top performers and orchestras of international standing throughout the year as well as our own musical events.
Bank Holiday Organ Concerts

Informal recitals at 3.30pm on Bank Holiday Mondays.
We are delighted to continue these concerts by recitalists from all over the country. The concerts will satisfy both the afficionada and the new comer to organ music. Admission is free with a retiring collection.
Market Day Music

Short informal concerts at 1.00pm on Wednesdays.
Occasional lunchtime musical treats: well known favourites played on the organ, song recitals or instrumental and vocal performances by local schoolchildren. Admission is free with a retiring collection.
A welcome from the Provost

Suffolk is often referred to as Selig Suffolk - holy . Suffolk. At the heart of its holiness was that great centre of medieval pilgrimage, the Abbey of Bury, dedicated to the memory of St Edmund, the martyred 9th century King of the East Angles.
Today I extend a warm welcome to pilgrims of the 20th century who come to St Edmundsbury Cathedral, the Mother Church of Suffolk and an inheritor of the ministry of the abbey. I hope you will find a sense of peace when you come - for here are stones hallowed by centuries of prayer and worship.
Through the ministry of our chaplains you can be touched by their pastoral care and concern. In our architecture and stained glass you may well sense the reality of God - his almighty presence pervades everywhere.
Enjoy your visit may you be changed by it.
The Very Reverend James Atwell
Provost of St Edmundsbury
Cathedral Refectory

The Refectory is open from Tuesday to Saturday offering refreshments and light lunches in an attractive and tranquil setting. The spacious Refectory has good disabled access and caters for individual visitors as well as conference delegates. The catering manager is happy to make special arrangements for group bookings.
Cathedral Shop

The newly refurbished Cathedral Shop now stocks an excellent range of choral and religious music on CD and cassette. It also has an extensive selection of cards and gifts, with many exclusive items of local interest. An expanded book section gives a wide variery of religious, educational and children's titles.
The shop is situated at the Cathedral Entrance and is open from Monday to Saturday 10.00am to 5.00pm.
Further Information

For details about any Cathedral service, concert or event please telephone (01284) 754933 or write to:


The Cathedral Office,
Abbey House, Angel Hill,
Bury St Edmunds 1P33 1LS