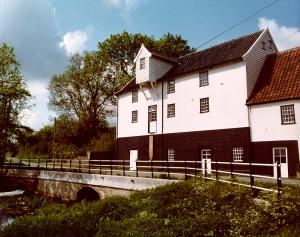 Pakenham Water Mill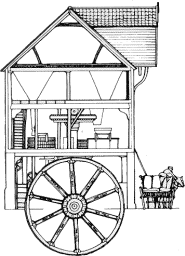 The parish of Pakenham is now unique in Britain in having both a working watermill and windmill. The Doomsday Survey records that there was a watermill on the site of the present building in 1086; thus corn has been ground here for at least 900 years.
Excavation of the foundations of the Mill revealed the remains of a Tudor watermill which was replaced by the present building in the late eighteenth century.
The Suffolk Preservation Society became concerned about the future of the Mill when it ceased to work in 1974 and in 1978, with the aid of a substantial anonymous donation, bought it from the late Mr. Brian Marriage. The restoration won the Society a prestigious Europa Nostra Diploma in 1985.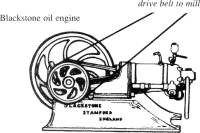 The Mill has a large 21 h.p. Blackstone oil engine made c1904 which was brought from another mill and installed at Pakenham in the 1930's. This was used as auxiliary power in times of drought.
---
For party bookings please contact:
Roger Gillingham,
Honorary Curator, 9 Mouse Lane, Rougham,
Bury St. Edmunds, Suffolk 1P30 9JB.
Telephone: (01359) 270570.
If unobtainable: (01787) 247179.
Frequent guided tours are given of the watermill and grounds.
Flour ground at the watermill on sale. Souvenirs, merchandise, with ice creams, soft drinks all available from the Mill Shop.
Refreshments are available for parties in small tea room by previous request.
The area within the Mill Grounds overlooking the Mill Pool is ideal for picnics. There is also a pleasant walk along the river bank.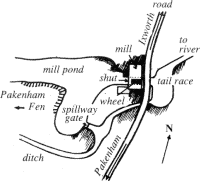 Numerous opportunities for sketching and painting.
Also suitable for organised barbeques.
Toilets including facilities for disabled.
We welcome schools, clubs and other organised parties during weekdays and in the evenings by appointment.
Pond dipping by prior arrangement
Ideal for Stage I & 2 for 3 School Curriculum subjects
---
OPENING TIMES TO GENERAL PUBLIC:
From Good Friday until the end of September on SATURDAYS, SUNDAYS AND BANK HOLIDAY MONDAYS, 2 - 5.30pm.
Milling demonstrations, April to September, on first Thursdays, 9 - 11.30am
Schools, Clubs and organised coach parties welcome all year round by prior arrangement.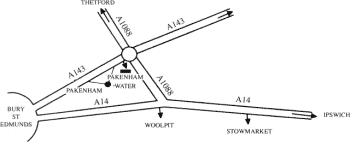 ADMISSION:
Adults: £2.50. Senior Citizens: £2.00
Children: £1.50, under school age free
Parties: Adults: £2.00, Children: £1.00.
Suffolk Building Preservation Trust Ltd (Reg Charity 265212)
Suffolk Preservation Society (Reg Charity 249981)