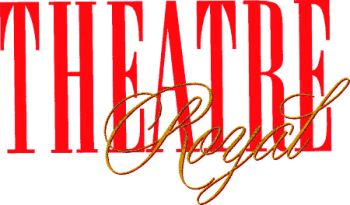 WELCOME TO THE THEATRE ROYAL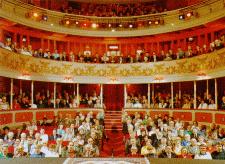 A beautiful Georgian theatre, cared for by the National Trust, with a varied and contemporary programme ranging from drama to comedy and dance.
Run by an approachable and imaginative team, the Theatre achieves its aim of satisfying all tastes with a consistantly high quality of friendly service and superb entertainment.
HOW TO BOOK
IN PERSON at the Theatre Box Office, 5 Westgate Street (adjacent to the Theatre). Please note that advance sales/reservations are only bookable by telephone and not in person after 6pm.
BY POST by completing a booking form and returning it to the address above. Cheques should be made payable to THEATRE ROYAL. Please enclose a stamped-addressed envelope if you wish to have your tickets posted.
BY PHONE Ring 01284 769505 to reserve your tickets, or pay by credit/debit card or Switch.
BY FAX on 01284 706035
TEL: 01284 769505
Opening times: Monday - Saturday 10am - 8pm (After 6pm advance sales are bookable by telephone only.)
DISCOUNTS & CONCESSIONS
Theatre Royal Promotions only (excluding Pantomime).Not available on Band C. Only one discount applies.
Friends of the Theatre - £1 off the cost of up to two tickets.
Groups - (8+) £1 off per ticket.
Senior Citizens, Children, Students, Registered Unemployed, those on Registered State Benefit and Registered Disabled. - Proof of status will be required when collecting your tickets.

- All Matinees - ½ PRICE
- All others (Mon-Thu) - £2 Off
- Standbys (Mon - Thu) - ½ PRICE
Schools Special discounts - ask at Box Office.
RESERVATIONS
Reservations must be paid for within seven days of booking, or one week before the performance, whichever is sooner. Tickets purchased after this time must be paid for in full at the time of booking. Tickets will be held at the Box Office for collection unless a stamped-addressed envelope is enclosed, or a 30p postage fee is added to your ticket total. Uncollected reservations will be released for re-sale.
GIFT VOUCHERS
Gift vouchers can be bought from the Box Office and exchanged for Theatre Tickets.
TICKET EXCHANGE AND RETURN
We are pleased to accept returns up to one week before the performance and either exchange tickets for another show, or credit your Theatre Account ('On-line credit') in full less a handling charge of £1 per ticket.
Less than 7 days before the performance we shall try to sell your tickets for you but cannot guarantee this: if they are re-sold you will receive a credit to your Theatre Account ('On-line' credit) in full less a handling charge of £1 per ticket. No exchanges or returns are offered on Multibuy tickets.
KEEP UP TO DATE
Join our free mailing list telephone 01284 769505
HOW TO FIND US
The Theatre Royal is situated on Westgate Street, opposite Greene King brewery. There is ample street parking after 6pm, and the car parks indicated on the map may also be used.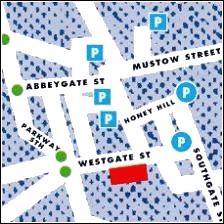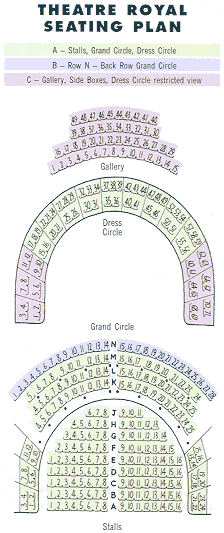 SEATING PLAN
There are special arrangements for wheelchair users, an induction loop for the hard of hearing and access to certain seats with guide dogs. Please discuss your access requirements with the Box Office, who will be pleased to help.
Latecomers will be asked to wait until a suitable break in the performance before taking their seats.
Click on the image to enlarge.