Business Directory


Clubs & Societies


Museums


Attractions

Abbey Gardens

Chilford Halls

East Town Park

Gifford's Hall

Ickworth House

Kentwell Hall

Linton Zoo


Market Cross

Pakenham W/Mill

St Ed'bury Cathedral

Theatre Royal


West Stow


Entertainment


Health


Recommended Reading



---

The House: a mellow redbrick Tudor Mansion surrounded by a broad Moat. A friendly lived-in Home, described by Country Life in 1992 as 'The epitome of many people's image of an Elizabethan house'.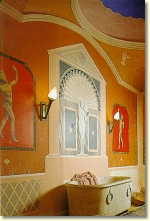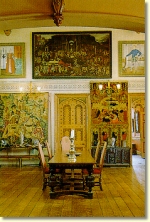 The Award-Winning Re-Creations of everyday Tudor Domestic Life take place on selected week-ends throughout the year. Then, visitors may take a step back in time to see the 16th Century come to life
Enjoy a visit to Kentwell on so many levels ...
See the House & the progress of Works carried out by Judith & Patrick Phillips over 25 years.
Admire the Moat House - romantic remnant of a 15th C. building.
Stroll in the Gardens - restored & re-formed over 25 years with new Herb Garden & Potager in the moated Walled Garden.
Wander through the Woods - a profusion of spring bulbs and wonderfully cool in summer.
Explore the Farm - picturesque timber-framed buildings, home to Kentwell's Rare Breed Farm animals.
Facilities: Kentwell offers a range of fine facilities:
Lunches & Teas - in the 100-seat Undercroft or 200-seat Overcroft using Kentwell's own organic meat.
Gift Shop - with 'Tudor' items - in the Octagon.
Modern WC's of high quality
For Parties:
Guided Tours - of House and/or Moat House.
Private Functions - Kentwell is an ideal location for Weddings, Dinners, Conferences, etc.
Tudor Banquets - We serve Tudor Food the Tudor way in the Great Hall. Unequalled anywhere.
Educational Visits - Kentwell's Award-Winning Re-Creations of Tudor Life are a unique experience for children. Visit the Great Annual Re-Creation or the September Re-Creation; participate in Tudor Household Days or attend one of Kentwell's stimulating School Guided Tours.
Evening Events:
Open Air Theatre: A Shakespeare Comedy plays on the last Friday & Saturday in July at 7.45 pm.
Christmas Choral Concert: Saturday (at 7.45) & Sunday (at 3.00) before Christmas in the Great Hall
---
KENTWELL HALL, LONG MELFORD, SUFFOLK, CO10 9BA
Seasonal Info Line: 0891 517475
Bookings/other enquiries: 01787 310207