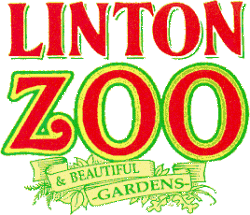 Cambridgeshire's Wildlife Breeding Centre
www.lintonzoo.com
Was opened in 1972 by the Simmons family and has been created out of their love, interest and concern for the World's wildlife. The zoo is continually expanding as more of the World's threatened species are taken on board their land based 'ark', so however often you visit there is always something new to see.
Find time to visit the Zoo and you'll discover lots to interest the whole family - Amur Tigers, African Lions, Snow Leopards, Lynx, Binturongs, Brazilian Tapir, Wallabies, Porcupines, Parrots, Macaws, Toucans, Hornbills, Eagle Owls, Giant Tortoises, Snakes, Tarantula Spiders and many others!- All set in 16 acres of beautifully landscaped grounds.
Lots to See, Learn & Enjoy
The Zoo is an ideal place to find out more about the creatures we share the Earth with!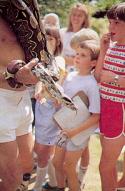 These visitors now have a better understanding of snakes and you can meet some them face to face!
To make the most of School and Educational Trips, please ask for a Teacher's Information Pack - Worksheets and talks are available.
People are animals too and we realise there is a need for all of us to have contact with our fellow creatures, so we have arranged Special days when you can meet 'Blossom' our Boa Constrictor and 'Pip' our Eagle Owl. A full programme of events has been arranged - details of which can be found on our website www.lintonzoo.com
After the excitment of seeing all our animals, relax in our beautiful gardens - why not bring a picnic and spend the day?
Discover the Delights
Location - Easy to find and well sign-posted! - 10 Miles South-East of Cambridge on B1052 just Off A604 (M11 Junction 9 northbound or Junction 10 southbound). Ample free parking for cars and coaches. Nearest Rail Station is Cambridge, take Cambus 113 to Linton Police Station stop - the Zoo is a 5 to 10 minnute walk.
Opening Times

| | |
| --- | --- |
| Now to 27th March '04 | 10.30am - 4pm 3pm |
| 28th March - 28th May '04 | 10am - 5pm 4pm |
| 29th May - 19th Sept '04 | 10am - 6pm 5pm |
| 20th Sept - 30th Oct '04 | 10am - 5pm 4pm |
| 31st Oct - 18th March '05 | 10.30am - 4pm |

Up to date times can be found on our website www.lintonzoo.com/visiting.htm

For Bookings and further information: Linton Zoo, Cambrigeshire's Wildlife Breeding Centre, Hadstock Raod, Linton, Cambridgeshire. Telephone (01223) 891308.